Governor Hochul Signs Assemblymember Carroll's Bill Creating a Flood Risk "Right to Know" for Tenants
December 23, 2022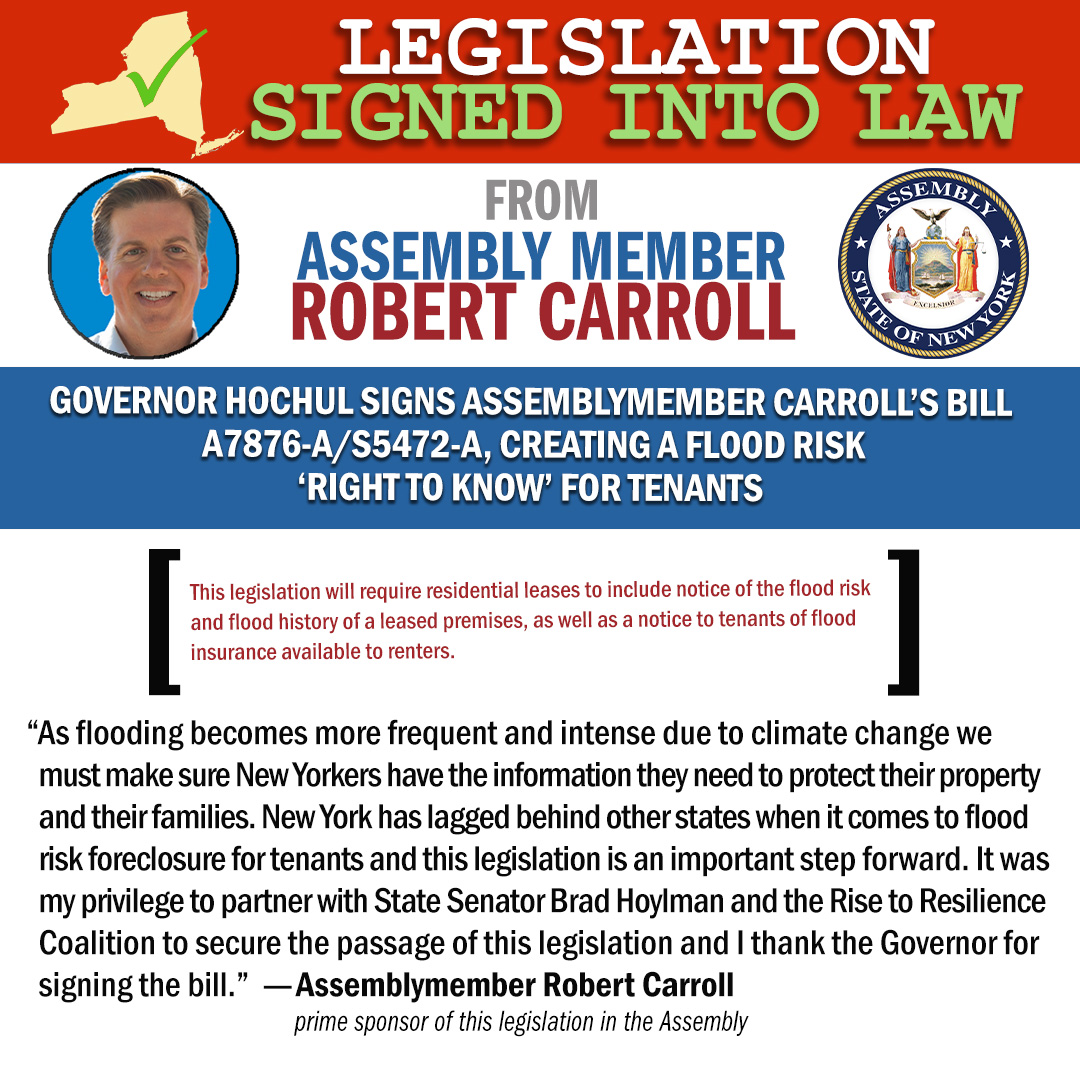 Albany, NY - Assemblymember Robert Carroll (D-44) today announced that Governor Hochul signed his bill, A7876-A/S5472-A, establishing a flood risk "right to know" for tenants.
In the last ten years, there have been flood disaster declarations in every county in New York State and flooding events are also the most common climate-related hazard in New York. This legislation will require residential leases to include notice of the flood risk and flood history of a leased premises, as well as a notice to tenants of the flood insurance available to them.
Assemblymember Carroll said: "As flooding becomes more frequent and intense due to climate change we must make sure New Yorkers have the information they need so that they can protect their property and their families. New York State has lagged behind other states when it comes to flood risk foreclosure for tenants and this legislation is an important step forward. It was my privilege to partner with State Senator Brad Hoylman and the Rise to Resilience Coalition to secure the passage of this legislation and I thank the Governor for signing the bill."
Cortney Koenig Worrall, President and CEO, Waterfront Alliance said: "With Governor Hochul's signature today, and the leadership of Assemblymember Robert Carroll, Senator Brad Hoylman, and the Rise to Resilience coalition, New York has brought a significant measure of climate protection to all future New York State renters. From now on ALL renters across New York State will be more informed about flood risks, flood insurance, and what it means to live in a highly floodable area or floodplain at the time of signing a lease.Hurricane Ida was the most clear indication of the extreme risks to rental units and the need for solutions. Waterfront Alliance and the Rise to Resilience coalition look forward to building on this major victory for the next step - requiring full flood risk disclosure for all home purchases as well. Every New Yorker deserves to know the potential costs and risks associated with flooding when deciding where to call home."